Regular price
$39,199.07 USD
Regular price
Sale price
$39,199.07 USD
Unit price
per
Sale
Sold out
Please note: All U.K shipping is free but European and International shipping costs will be calculated and invoiced prior to delivery.
This unique one of a kind bespoke commission has been produced as a wedding gift for Sergio Perez and is inspired by the helmet worn during the 2018 F1 season for Sahara Force India F1 Race team. 

To design your own unique bespoke Racing J Manta sculpture add this to your cart and submit your ideas via the form below.
Juvenile manta is a third of the size of the largest Carbon Art sculpture,'aero manta', the sculpture that brought together all my engineering skills and sculpting ambition to date.
The manta ray is one of the oceans most recognisable creatures and as anyone who has dived with these fish can appreciate their grace and beauty. Manta rays are found in the world's tepid oceans and are true 'aero' fish.
Selected parts and materials used in this sculpture are from modern Grand Prix cars as listed below.
Sculpture limited to ten pieces plus two artists proofs.
Body: Carbon fibre 4 plies / layers of 2 x 2 twill 200 gsm, gives a thickness of 2.4 mm. Coated with UV resistant clear coat and painted detail.
Fin: One piece of shaped 2 mm HE15 white coated aluminium.
Eyes: Modified aluminium HE30 machined plugs, coated gloss black.
Gills: ABS (Acrylonitrile Butadiene Styrene) plastic 3D printed on HP design jet, FDM (Fused Deposition Modelling).
Underside duct: Pitot tube shroud with titanium fitting.
Tail: Tail boss, wing adjuster flange from the Sahara Force India F1 Team part no. 12J06-0330, with second stage double clutch system actuator rod. Third stage, titanium 'cake tin' top hat fixing. Fourth stage, front wing flap adjuster from the Sahara Force India F1 Team part no. 11J90-0154.
Exhausts: Hydraulic cooler 90° aluminium tubing cut down and mounted on internal fabricated backing plates, Sahara Force India F1 Team, hydraulic cooler part no. 14 J89 - 7307.
Vent fins: A pair of rear wing 'fish plates' P4 & P5 from the Sahara Force India F1 Team.
Vent: 45° PRV aluminium water pressure link used on the Sahara Force India F1 Team part no. 10J18-0042 issue 1.
Wing tip detail: 0.5 mm Aluminium shaped, 'aero' twisted.
Fins and tail: CAD designed and five axis machined on a Haas 4SS from 30 series aluminium.
Caudal keels: 3D printed CAD designed coated ABS.
Mounting base: Mounted on Sahara Force India F1 team driveshaft, part number 16 J 03-0003-01A life number 16-02, used by Sergio Perez in the Azerbaijan GP, Baku 2016, podium 3rd position, mounted on a Section of FIA legality underfloor 'plank' from Sahara Force India part number 13 J23 0051 01A.
Mounting methods: Suspended, floor or wall mounted 
Dimensions: L 900 mm  W 1000 mm  H 910 mm unmounted.
Weight: 6 kg.
View full details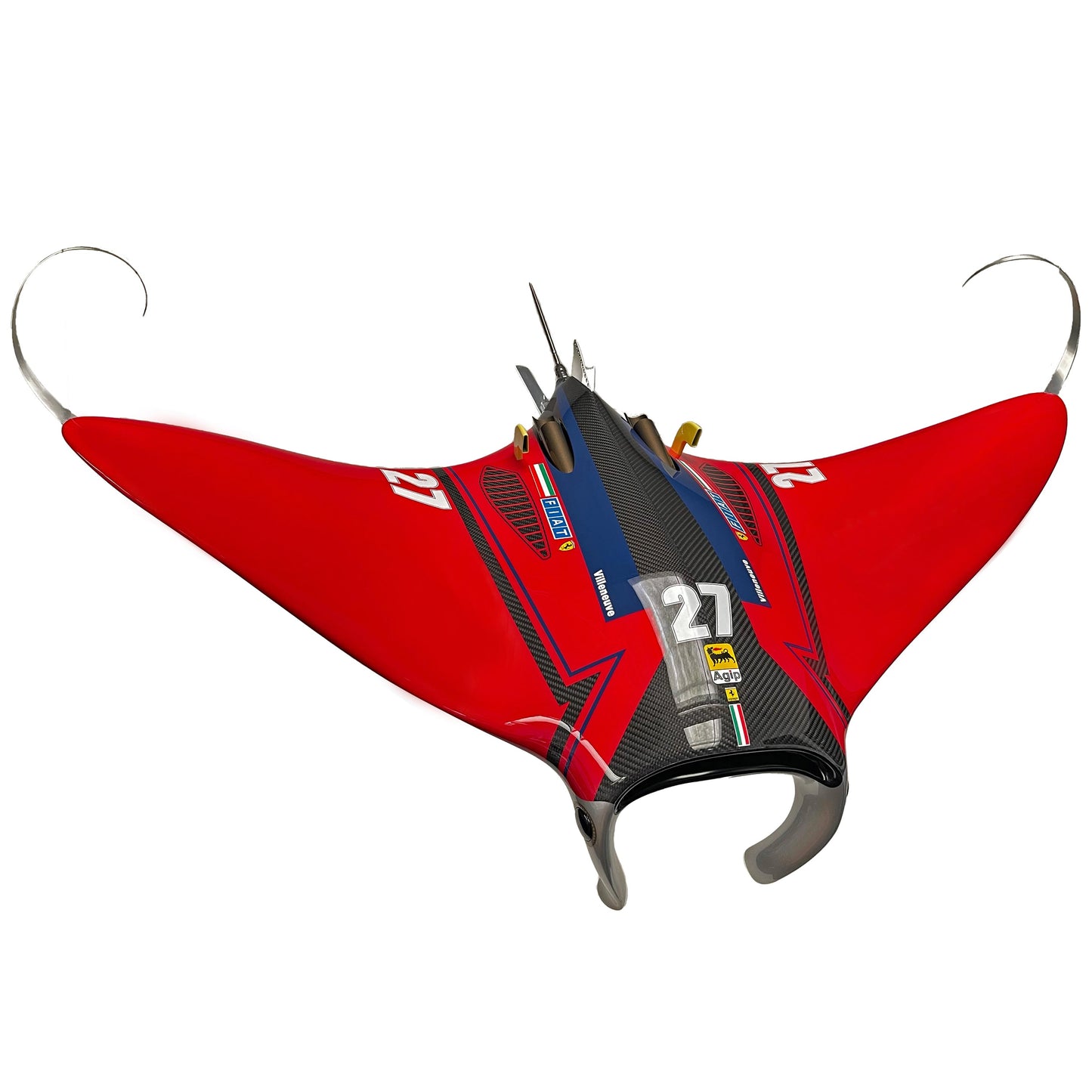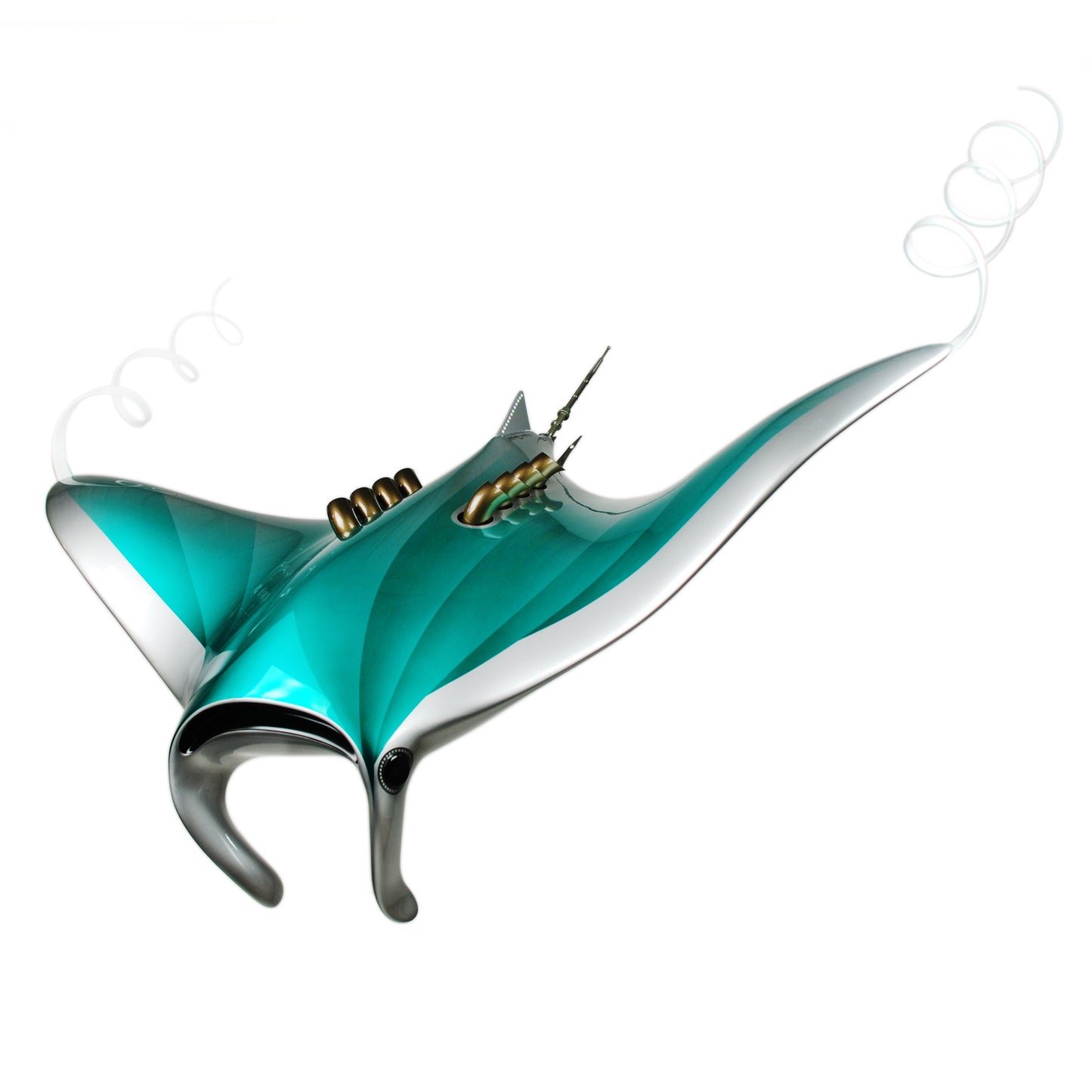 How it works...
Add this product to your cart where your 25% deposit will be automatically calculated.
Submit the bespoke sculpture form including your references and ideas via email and someone will get in touch to discuss further. 
The total price includes a unique 1/1 sculpture made to your specification with full spec sheet and custom flight case, free delivery or the option to collect from the studio.